Eight Unforgettable Caribbean Islands
For Your Next Tropical Escape
08 August 2018
If there's one part of the world which was simply made for showing off your stylish Sanwin swimwear, it's surely the Caribbean. This group of idyllic islands offers the kind of beaches, nightlife, cultural escapes, and gastronomic scenes that have set the standard for all of our getaway dreams, and it continues to tempt and fascinate us like no other.
But which island is the best? With so many to choose from, and with each boasting its own character and unique features, choosing the perfect Caribbean escape for yourself isn't always the easiest of tasks. While you're more or less guaranteed to have an amazing time no matter which location you choose, it's worth looking into the individual characteristics of each one… and that's why we've put together this handy guide to our eight all-time favourite islands in this warm and sparkling sea. Ready? Of course you are! Let's dive right in, and start discovering your own slice of paradise…
Aruba
Looking for a family-friendly idyllic getaway, where you're guaranteed plenty of fun in the sun? If so, then maybe Aruba is the island you've been searching for. This island is considerably more arid and less green than many of the other Caribbean locations, but that's perfect for those seeking out their own Robinson Crusoe-style escapes, where gorgeous long beaches give way to glittering turquoise waters. Most of the resorts on Aruba have been made with family holidays in mind, but that's not to say there isn't plenty for the adults to do, too. Here, you'll also find one of the Caribbean's most vibrant party scenes, with nightclubs and casinos aplenty across the island's more populous hotspots.
Do you want to know more about Aruba's beautiful beaches? Check out our Aruba Beaches Guide now!
St. Lucia
Close your eyes, and picture paradise. The chances are, the image in your head right now pretty closely resembles the island of St. Lucia, arguably the most beautiful and serene of the Caribbean islands, and home to those iconic pointed mountains which rise from the sea like guardians of some great and wonderful secret. The landscape here is lush and green, and you can get a real sense of an untouched wilderness alongside the stunning beaches and resorts. It's one of the world's most romantic locations, too, so whether you're going with a partner or are on the lookout for love, St. Lucia is sure to get the heart beating faster.
Barbados
Love the vibrant beat of Bajan music, the rich and spicy flavours of Caribbean food, and the adrenaline-pumping thrill of water sports? If so, Barbados is going to tick a whole load of boxes for you. This utterly beautiful holiday hotspot isn't the most relaxing or serene of the islands in this archipelago, but who needs tranquility when you've got one of the world's greatest dance scenes on your doorstep? Barbados also has a brilliant pirate-y vibe to it, too, and exploring the 17th century trader city of Bridgetown is sure to bring out your inner Blackbeard as you sip on quality rum in the blazing sunshine, and explore secret smuggler locations like the famous Harrison's Cave.
Anguilla
If your idea of heaven is padding softly over pristine white sands and discovering unspoilt private beaches, then Anguilla is sure to delight each and every one of your senses. Walking along the sugary coastline in your Sanwin swim shorts and accessories, you're going to look like someone out of an adventure movie as you dive into the calm waters before sipping on some fresh coconut water… seriously, this is about as good as it gets. This small island is generally low on tourists and crowds, and yet head into town and you'll still be able to find some quintessentially Caribbean nightlife to enjoy. It's the best of all possible worlds, waiting to be discovered.
St. John
The most beautiful of the US Virgin Islands, St. John is popular for two main reasons: it's a great place to pick up some tax-free bargains, and it's also the most popular location in the Caribbean for snorkelers looking to get up close and personal with the colourful denizens of the reefs which surround it. The main snorkeling destination is the postcard-perfect Trunk Bay, where the shallow, warm waters offer plenty of incredible marine life experiences… and because this is the Caribbean, your underwater adventures can be followed by a perfect rum cocktail on the beach once you're done.
Bermuda
Seeking something a little more 'old world' and sophisticated from your Caribbean vacation? Bermuda still boasts many features of its British colonial heritage, and it's perfectly possible to sit by the azure coastline while watching a game of cricket and enjoying a classic English high tea. Elegant, beautiful, and packed full of antiquated charm, Bermuda is the perfect island for a relaxing holiday in the sun, and a fantastic place to meet beautiful women, too! The rugged coastline is bursting with romance, and there's little doubt that a break to Bermuda is sure to stay with you forever.
Antigua
If you love the high-rolling life and see yourself as a bit of a party animal, then Antigua is the obvious choice of location for your next Caribbean holiday. This island is famed for its casino scene, and there are plenty of places in which to perfect your poker face or win big on the blackjack table, while surrounded by some of the world's most stunning verdant landscapes. Love to dance? Antigua's nightlife scene really is second to none, and the late night cafes, restaurants, and nightclubs are guaranteed to ensure you have plenty of 24 hour fun during your tropical getaway.
Vieques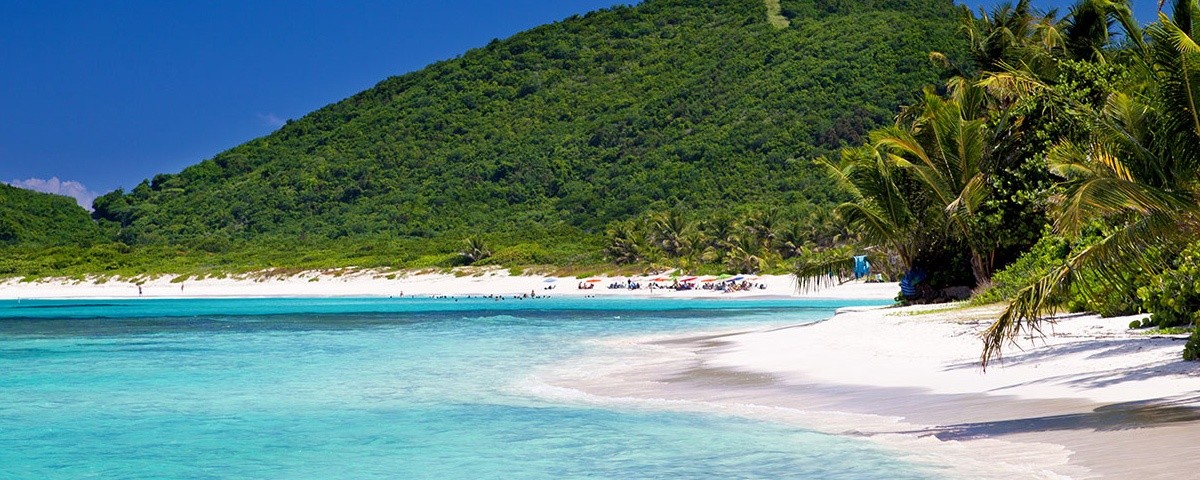 This is one of the smaller Caribbean islands, and it's the perfect place for you to cut yourself off from the wider world, forget your worries and cares, and simply relax and luxuriate in the incredible setting you'll find yourself in. The turquoise waves lap at the golden sands, the sun beats down like molten honey, and the locals will amaze you with their hospitality, their food, and those ubiquitous rum cocktails. Vieques gets considerably less tourism than its neighbouring islands, and if you're the kind of person who longs for a real escape from the hustle and bustle of everyday life, you're sure to agree that's no bad thing at all. Vieques is also popular with eco-tourists and nature lovers, and if you fancy getting back to the wild, the protected area of Mosquito Bay (don't let the name put you off) offers plenty of incredible experiences to encounter.
There you have it - eight stunning Caribbean islands to explore and enjoy! This is one part of the world where you're guaranteed to find real fun in the sun, and dressed in your Sanwin swim shorts, you're guaranteed to get plenty of envious glances as you strut your stuff on some of the world's finest beaches. What are you waiting for? Book those tickets, and live out your own Caribbean dream!