Kitesurfing: The 10 Best Kite Spots in Europe
Check them out, and schedule some kitesurfing for your next beach holiday!
18 September 2018
We're pretty big fans of adventure sports here at Sanwin. Any chance we get to make that adrenaline pump, and to get us feeling truly alive while in beautiful locations around the world… well, we grasp it with both hands. Out of all the adventure sports available, however, kitesurfing has a particularly special place in our hearts. Why? Simply because it's a winning combination of thrilling action and speed, and time spent on the beach and among the waves. The fact we can wear our favourite stylish swimwear while catching some big air is clearly a bonus, too.
So long as you have some decent surf, a strong breeze, and the right bits of equipment, there aren't a whole lot of beaches on which you can't kitesurf. However, it's fair to say that some locations are better than others, and certain coastal areas around Europe have garnered a reputation for being seriously hot spots for this particular sport. As always, we've done the hard work so you don't have to… and this month's blog is all about our all-time top ten beaches for kitesurfing fun. Check them out, and schedule some kitesurfing for your next beach holiday!
Bamburgh Beach, UK
Remember, this beach is in the north of England, so it's not somewhere you can go with any guarantee of hot weather. However, when the sun does decide to shine (and in the midsummer months, that's more likely than you'd imagine) there are few places in Europe which can compare with this particular stretch of coast.
With its miles of long sandy beaches, and a backdrop of impressive cliffs and a vast and spectacular hilltop castle, Bamburgh Beach is the kind of place you can really release your inner speed demon. Strong winds and decent surf are pretty much guaranteed, and you're quite likely to see seals, dolphins, and porpoises enjoying the waves as you weave over the breakers.
Porto Pollo, Sardinia
If you haven't already explored the stunning beaches of Sardinia, it's high time you checked out this truly beautiful Italian island. With its turquoise waters and golden sands, you can even believe that you're somewhere in the distant Caribbean… it really is that beautiful. Porto Pollo has picked up a reputation for being a hotspot for kitesurfers in recent years, thanks to the complex weather system that blows strong winds down from Corsica. An afternoon with your kite and board followed by some of the best seafood in this part of Europe sounds pretty close to heaven for us!
Lake Garda, Italy
OK - so it's not a beach in the truest sense of the word, but Lake Garda is a highly popular kitesurfing spot which shouldn't be overlooked. Lake Garda is incredibly beautiful, and when it comes to kitesurfing, it really impresses. There's even a dedicated part of the lakeside dedicated to the sport at Navene, meaning you'll always be able to hire some gear and pick up some top tips from the local pros if you're new to kitesurfing.
The conditions are also surprisingly ideal for kitesurfing at Lake Garda, with the best times of day being fairly early in the morning, and then later in the afternoon when the local winds are blowing at their strongest. What's more, the local ladies always appreciate active men with good taste in fashion, meaning you can strut your stuff with pride while wearing your Sanwin shorts.
Paros, Greece
There's good reason why the world kitesurfing tour stops at Paros. This long, flat sandy beach leads into shallow waters, making it ideal for surfers of all ability levels to perfect their skills. Throughout the kitesurfing season (from May to September in this part of Europe), the thermal winds pick up nicely, and the waters here are so warm that the majority of participants won't even bother with wetsuits. Nice!
Pissouri, Cyprus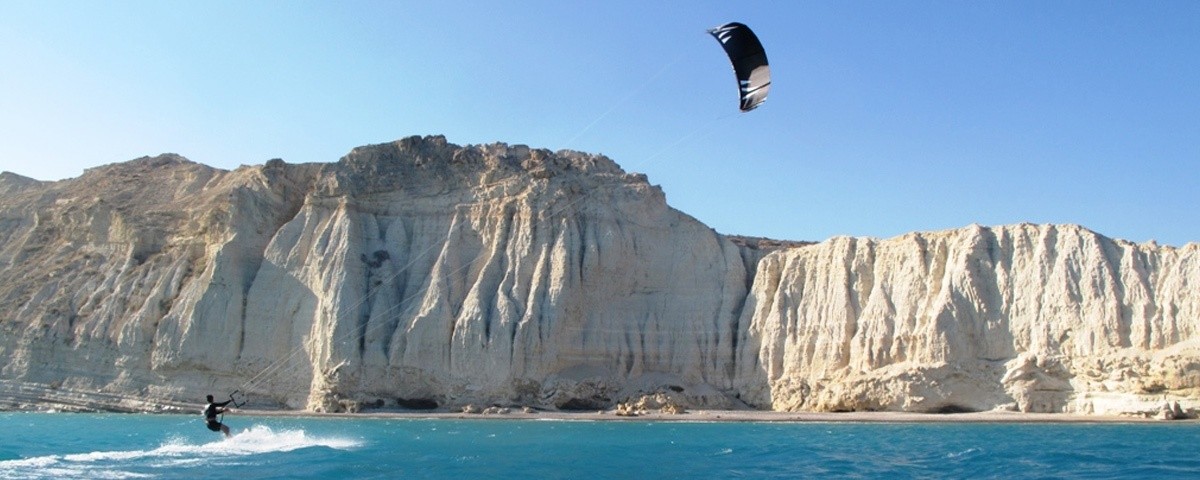 The beautiful island of Cyprus has no shortage of fantastic beaches, and guarantees pretty much perfect weather for most of the year. Pissouri is a traditional Cypriot village with plenty to offer tourists looking for a sunny getaway, but over the past decade, it has become a mecca for kitesurfers looking for thrills in the choppy waters.
For beginners looking to pick up the sport, there is a protected bay area which is sheltered from the brisk winds and the bigger swells, making it a safer and more calm part of the coast to practise. Once you've mastered the basics, however, you'll be ready for the open water and the crashing waves which await!
Praia do Guincho, Portugal
Just half an hour away from the ever-fascinating capital city of Lisbon lies Praia do Guincho, a stunning Atlantic beach lined with looming cliffs and dense forests. It's a spectacular place to visit for any reason, and like all of Portugal's beaches, there's plenty of reasons to head there and enjoy yourself on the golden sands among the friendly, laid back locals.
When it comes to kitesurfing, this particular beach is more for the experienced surfers among you. The Atlantic throws up a big swell here, and the waves can reach huge proportions… meaning a truly thrilling and challenging encounter with the elements. Make sure you take a wetsuit (the water never really seems to warm up), and don't miss the opportunity to take a foodie tour of the nearby big city once you've built up an appetite!
Flag Beach, Fuerteventura, Canary Islands
Situated off the coast of Africa, Fuerteventura is one of our favourite places for winter sun and a short vacation for catching some waves and beach time. Flag Beach is definitely the hub for kitesurfers on the island, and it's absolutely perfect for the sport. With seven kilometres of unspoilt sands, reliable wind conditions all year round (although considered at their peak in the summer months), and even kitesurfing schools dotted at various points of this part of the coast, it's a haven for those looking to get into the sport and have some serious fun.
Tarifa, Spain
Many people steer clear of this beautiful Spanish beach due to the particularly windy conditions it experiences all year round. Of course, for those looking to enjoy some great kitesurfing, that makes it absolutely perfect… and there's the added bonus of being fewer sunbathers lazing around and getting in the way!
The proximity to the Strait of Gibraltar creates the unique weather conditions experienced by Tarifa, and this has led to it being one of the few kitesurfing capitals in the world. Naturally, you'll be able to find schools and equipment hire places all along the beach, where you'll be able to pick up the skills and master the basics before heading out into the surf.
Leucate, France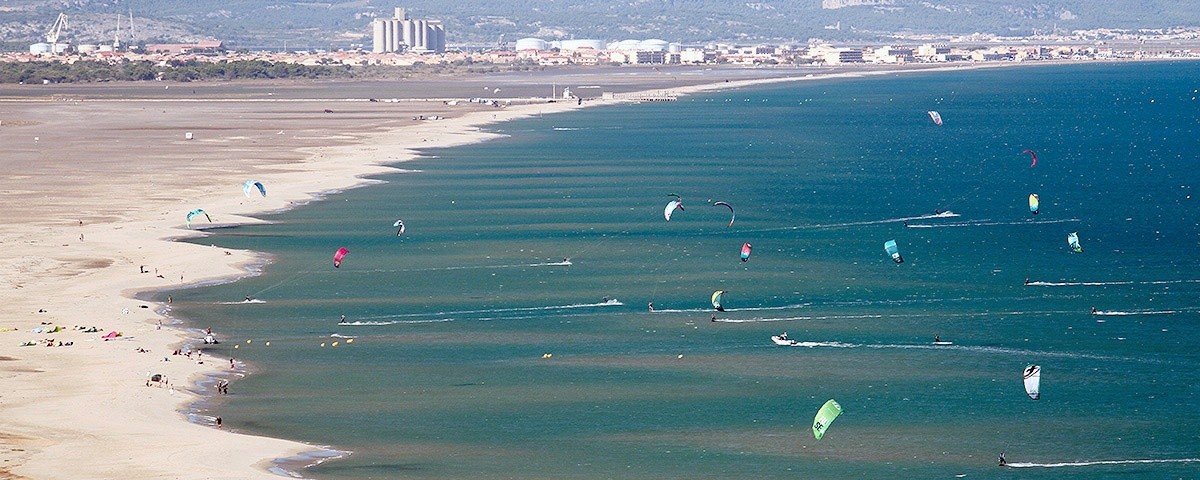 Situated on the beautiful and alluring Cote d'Azur, Leucate is one of the more sophisticated spots on this list. It's an absolutely gorgeous beach to explore from the Spring to the Autumn, and this being southern France, you're never far from a great bar, beach club, or top restaurant, either.
The surf is perfect, the winds pretty constant, and the sunshine divine… you've just got to watch out for the oyster beds at the top end of the beach (seriously, you don't want to fall onto a mountain of oyster shells). Once you're done with your new favourite sport, you can go and mingle with the rich and famous, and relax with a glass of wine as the sun sets.
Gokova Bay, Turkey
A beach holiday to Turkey is never a bad idea. Straddling Europe and the Middle East, you're pretty much guaranteed phenomenal weather all year round, and the hospitality, food, and local women are all about as good as they get! With your trusty Sanwin swimwear, you're sure to turn plenty of heads in this part of the world, as you swagger along the golden sands in style.
For kitesurfing, Gokova Bay is hugely popular. The long stretches of sand, shallow waters, and great weather conditions make it a perfect spot for enjoying some time with your kite and your board, and you won't have to struggle in and out of a wetsuit due to the warmth of the water found in this wide and tranquil estuary. Perfection!
There you go - our top 10 European hotspots for kitesurfing adventures. Whether you're a seasoned professional, an absolute beginner, or a casual participant of kitesurfing, there's no doubt that each and every one of these destinations has plenty to offer. Thanks to your stylish swim shorts from Sanwin, you'll be looking and feeling your best as you catch those waves, and you'll no doubt have the kind of holiday you truly deserve. Enjoy!